Latest News
Inspiring participants and champions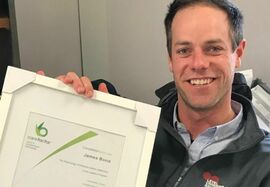 James Bond (yes that is his real name and NO he is not '007'!) is one of the many inspiring participants that embrace psychological safety knowledge and grow their safety thinking.
During program workshops Care Factor Champions are identified.
These Champions are participants who show an aptitude toward the concepts and skills, and wish to be involved in supporting others to enable psychologically and physically safer workplace environments - from the ground up.
GYST Consulting is dedicated to seeing people and organisations take what they learn and run with it!
As part of any Care Factor Program we provide the embedding tools and supports to evolve your safety and wellbeing cultures.
About the Care Factor Programs Care Factor Safety Program Care Factor Psychological Safety & Wellbeing Program
PARTICIPANT TESTIMONIAL
"This workshop very cleverly explains human nature and how it affects safety. I believe this course has completely changed my outlook on safety, as ultimately safety is your own responsibility. It has changed the way I manage myself in pressure situations and stopped me getting upset with things I cannot control. The course was excellent..."
Miner
XSTRATA
"Clive is a highly motivated and dynamic trainer. He has a deep understanding of his subject and delivers a very powerful message in an incredibly short space of time. This is probably the best training session I have ever attended and I would highly recommend Clive and GYST Consulting."
Business Manager
HIMA AUSTRALIA
"The Care Factor Program has enabled me to be conscious of taking responsibility and understanding the how/what/why my thinking is built on. Also, that to change culture, I must empower others by asking questions and not being afraid to intervene"
Mining Engineer
BMA
published on June 23, 2017
Clive Lloyd introducing the Care Factor program
Clients we work with